It was a busy and productive last few months here at www.danceyourfaceoff.com (DYFO!). In our second summer of operation, we were fortunate enough to cover many magnificent shows and festivals throughout the country.
The ball got rolling in April when we traveled to Myrtle Beach for the California Roots Carolina Sessions. The star-studded lineup featured reggae acts including The Movement, Fortunate Youth, Passafire, and Stick Figure, with headliners Soja and 311. As great as the festival was, there was a bit of disruption throughout that was quite an annoyance; Soja's Jacob Hemphill had to call out the security team (attendees referred to them as SWAT) for hauling off 'potheads' left and right and causing commotion. The festival organizers have since acknowledged this, and have vowed to loosen things up for next year. We look forward to that and to attending again.
Our next festival was the Levitate Music Festival in Marshfield, MA. The event has grown year-over-year, with bands and attendees amassing as popularity has exponentially increased. Acts like Twiddle, North Mississippi All-Stars, The Movement, and Nahko and Medicine for the People all graced the stage. Crowd favorites and annual performers at Levitate, Stick Figure, got the crowd pumped up for the headliners to come (Stick Figure consists of a Massachusetts native Scott Woodruff, and of course his companion Cocoa the tour dog) – Rebelution and Tedeschi Trucks Band, who definitely brought more energy to the already vibrant crowd.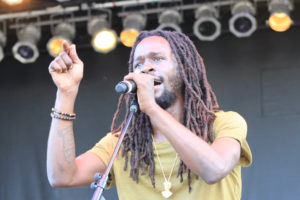 The following week, and just a few towns over, we covered Outside The Box Festival at Boston Common. This was a free five-day festival with plenty of action scheduled daily. Most people in attendance (including the performers) battled scorching heat throughout the stretch, but there were plenty of refreshment options and trees and tents for shade. Performances ranged from dance and theatre to well-known musical acts like Daughtry, so there was a little bit of something for everyone. Top artists at OTB included Vertical Horizon, Smash Mouth, Michael Franti and Spearhead, and Zap Mama. Overall, it was a smoothly-handled, well-organized event that you couldn't ask more from being free.
We were lucky enough to link-up with the folks running the Rhode Island Waterfront and Providence Event series. We started by covering the Reggae Fest at India Point Park. All-in-all a great day of music featuring the likes of The Cornerstone, Jesse Royal, Etana, and Maxi Priest. Reggae legends The Wailers were the night-cap and were nothing short of amazing. The other events we covered, both taking place at Providence's Alex and Ani Center, were Third Eye Blind and Ziggy Marley. Before Third Eye Blind took to the stage to set-forth into many of their nostalgia-inducing classics, they brought along openers Town Meeting Band and Tancred. Ziggy Marley had an opening performance by Anthony D'Amato before coming out and electrifying the crowd himself. Ziggy was on-point and included many of his father's songs in his setlist.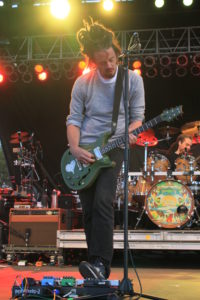 Foxwoods Resort Casino held a few events we covered this summer too. Throughout the summer they hosted Liquid Sundays at their rooftop pool on the Fox Tower. For their grand finale of the summer, they had Fat Joe perform. Everyone was socializing or lounging in the pool as the DJs warmed things up, and then Fat Joe came out and brought the fire. Additionally, Foxwoods hosted the first annual Revolution Rock Festival, with performances by Crobot, Kyng, Sevendust, Killswitch Engage, Chevelle, Volbeat, Slayer, and Avenged Sevenfold. This one day event was jam-packed with headliners from noon to almost midnight, so we'll be curious to see if the event is spread out over a long weekend next year.
To wrap up the summer we hit the Boston Freedom Rally. This particular event has been taking place since 1989, and as the inevitable legalization of marijuana in Massachusetts nears, the event has turned into a full-blown music festival extravaganza (or extravaganja if you will). This years' was a two-day event with music and orators throughout. Roots of Creation, Stiz Grimey, Soul Rebel Project, The Cornerstone, Slaine, Maverik, and Termanology all contributed to the cause. Another artist, Myster DL, proudly marched around the stage with his marijuana plants as he performed. They really outdid themselves with the headline performers this year, as they landed legendary rappers Method Man and Redman to close out the weekend. They performed classics from their Blackout albums, as well as some old school Wu Tang Clan jams.
All-in-all, our second summer can be chalked-up as a success. We want to thank all of our fans and the musicians out there for supporting us, as we aim to keep the good vibes coming your way year-round. Winter may be coming, but we'll still be hitting as many shows as possible, and we're already looking forward to next years' round of summertime festivals!