As warm weather fades away, Dance Your Face Off! has been seeking shelter at the indoor shows around New England. The month of October gave Massachusetts a solid variety of music offerings, spread out to venues all across the state. We covered a reggae rock show headlined by Passafire, Chadwick Stokes (of Dispatch and State Radio) who brought a mix of classic and new songs to his show, and a rock/metal event headlined by Clutch.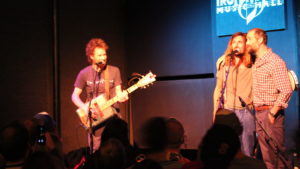 Passafire played at The Middle East in Cambridge, MA bringing along The Cornerstone and Over the Bridge to kick the night off. This was a night full of sweet reggae vibes. Both openers are local bands that have amassed impressive followings over the last few years. Over the Bridge released their debut EP Something in the Water back in July, while The Cornerstone released their self-titled debut album on iTunes in September. Passafire capped the night playing their hits like Kiss My Head off their album Start From Scratch and Casting of the Cares from Everyone On Everynight. Lead singer Ted Bowne and bassist Will Kubley's vocals were on point, and Mike DeGuzman and Nick Kubley slammed away on the keys and drums. We've had the pleasure of seeing these guys a few times and they have yet to disappoint.
A few weeks later we traveled out to Northampton, MA for Chadwick Stokes' annual Halloween shows supporting Calling All Crows. This took place at the Iron Horse Music Hall. Unfortunately, due to a vocal cord injury, Chad had to cancel one of the two planned shows for the night. The decision came in the midst of the new Dispatch album being recorded so preserving his voice was top priority for him. The crowd was much appreciative of the fact that he still came out to carry out the tradition and the ailment didn't hamper his sole performance. Chad was accompanied by a familiar tour-mate Jon Reilly for the Northampton show, and together they played many of the Dispatch and State Radio greats, plus some songs off of Chad's solo albums. Some of the set-list that night included Right Me Up, Camilo, and Pine Needle Tea. Chad will be returning to the Boston area in December for a benefit weekend again supporting Calling All Crows. The campaign focus for these shows is that of reducing and stopping gun violence.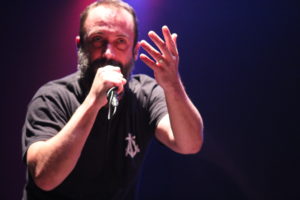 To wrap the month up, we headed on over to The Palladium in Worcester, MA to catch an adrenaline pumping night of rock and metal. There were three heavy hitters on the card for the night, beginning with Kyng. These are some real down to Earth guys as after they performed a flawless set, they hung out at the merch table conversing with fans and signing autographs. Their latest album Breathe in the Water was released on October 7th of this year. Next up was the legendary Zakk Wylde with his band Zakk Sabbath. Zakk Wylde played alongside Ozzy Osbourne, and wanted to make sure the music of Black Sabbath lives on when they hang up their boots. They play all the classics with their own unique twist throughout and it's truly awe inspiring. He chose some well-known musicians to fill out the band with Rob Nicholson on bass (Ozzy, Rob Zombie) and Joey Castillo on drums (Danzig, Queens of the Stone Age). The headline act Clutch then closed out the night with a punch. They delivered nearly a 20 song-set including Electric Worry, The Regulator, and Earth Rocker. Lead singer Neil Fallon brought a ton of energy to the stage that night and the crowd ate it up, moshing and rocking.
It was a busy month in October but things are just starting to heat up with the fall and winter tours rolling through (despite the New England weather that says otherwise about the heat). We look forward to continuing to get out there and cover as many shows as possible and spread the positive vibes. We hope you all stay warm, enjoy music, friends, and family as we head into the holiday season. We will continue to capture as many moments as possible on camera to share with you all! Much love, DYFO!