We are hitting the road soon for our first festival of the season, and couldn't be more excited! In two weeks, we'll be heading down to The Sunshine State for Reggae Rise Up. The festival is being held at Vinoy Park, Saint Petersburg, Florida, on the weekend of March 4-5, 2017. Tickets are currently at the third tier price level, and can be purchased here!
Reggae Rise Up features a lineup headlined by Slightly Stoopid, Dirty Heads, and Iration. Slightly Stoopid is a San Diego-based folk, rock, and reggae-fused band, who have released eight studio albums, with the most recent being Meanwhile…Back at the Lab in 2015. Dirty Heads, also California natives, offer a unique blend of hip-hop and reggae-rock. They have released five albums since 2008, with their latest being the self-titled, Dirty Heads in 2016. Iration have been active since 2004. All members of the reggae/dub group are originally from Hawaii. They have produced five studio albums, as well as several EP's. Their 2015 album, Hotting Up, reached number one on the US Reggae Charts.
This festival isn't all about the headliners, however, as this lineup is stacked with talent from top to bottom. Additional acts include: Steel Pulse, The Green, Fortunate Youth, Hirie, Passafire, The Movement, Giant Panda Guerrilla Dub Squad, The Expanders, Leilani Wolfgramm, Law, and more. We have been blessed enough to cover a few of these bands such as Fortunate Youth, Passafire, and The Movement several times, and they are exceptional performances every time. One band we are particularly excited about seeing hit the east coast is Law. The band's frontman is Jakob Nowell, son of the legendary Bradley Nowell of Sublime. Law is a rock band that was formed in 2013, with their most recent release being their EP, Toxic.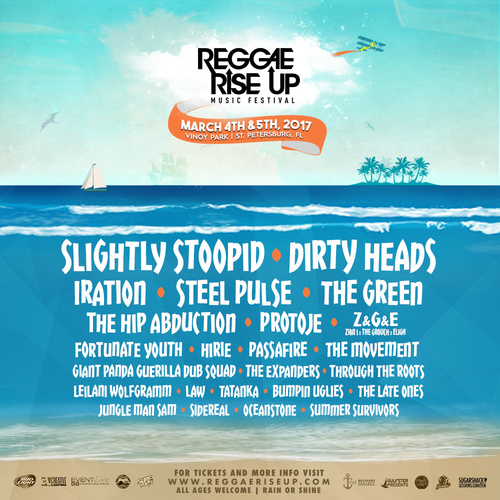 There will be plenty of hometown representation (New England-based), with the likes of: The Hip Abduction, Sidereal, Oceanstone, and Summer Survivors. These bands have all gained a loyal following, and have earned spots in this stacked lineup. Additionally, Reggae Rise Up is running an artist discovery contest, in which they will be selecting three additional bands to join the lineup based on fan voting. There are a lot of great bands submitting their work, so head on over and vote now! (Note: the winners will be picked Tuesday, February 21st.)
If you are seeking a top notch reggae festival on the east coast, this is it! This is by far the most impressive lineup yet to be released. With plenty of food, drink, games, and music from nationally recognized artists, the price tag for the two-day festival is more than reasonable. We can't wait to hit the road and join up with our Reggae Rise Up family. See you there!